Fashionomics Africa's Marketplace moves to Afrikrea
27 Jan, 2023
Fashionomics Africa's Marketplace moves to Afrikrea
E-commerce has been widely adopted in Africa, as many businesses are embracing the benefits of selling online. In 2020, Statista estimated that e-commerce opportunities in Africa stood at USD 19.80 billion. The benefits of e-commerce to the fashion industry are evident, but they are also constrained by a lack of the requisite tools to effectively harness e-commerce in the face of challenges related to logistics, shipping and payment methods.
The nature of e-commerce challenges faced by fashion entrepreneurs calls for fast evolving e-commerce systems. In response to this call for innovation, Afrikrea – one of the services provided by ANKA – has come up with a more sophisticated e-commerce platform which addresses each of these three challenges. In this article, you will learn more about how Fashionomics Africa partnered with the company to increase its e-commerce reach and help fashion entrepreneurs conquer new markets. In addition, we will also get more insight into how the new ANKA solution works.
The Fashionomics Africa Marketplace
Although the Fashionomics Africa initiative was born in 2016, the digital marketplace allowing fashion entrepreneurs to sell all over the world was launched as a pilot three years later, in 2019, with the view of connecting entrepreneurs in the textile, apparel and accessories industries to global markets. The platform facilitates business-to-business and business-to-consumers' relations, with the overall aim of facilitating trade within Africa and worldwide. Through the platform (including the digital marketplace) and mobile app, Fashionomics Africa provides relevant market information, such as market prices for textiles and clothing or listings of trade conferences, to increase transparency in the sector. This year, Fashionomics Africa has partnered with the private-sector marketplace Afrikrea, in a move which will see the private company hosting the Fashionomics Africa marketplace component. The rest of components – Academy, Hub and Resources – remain active for users. The successful collaboration is in line with Fashionomics Africa mantra, to forge public-private partnerships and forward linkages which advance Africa's fashion industry.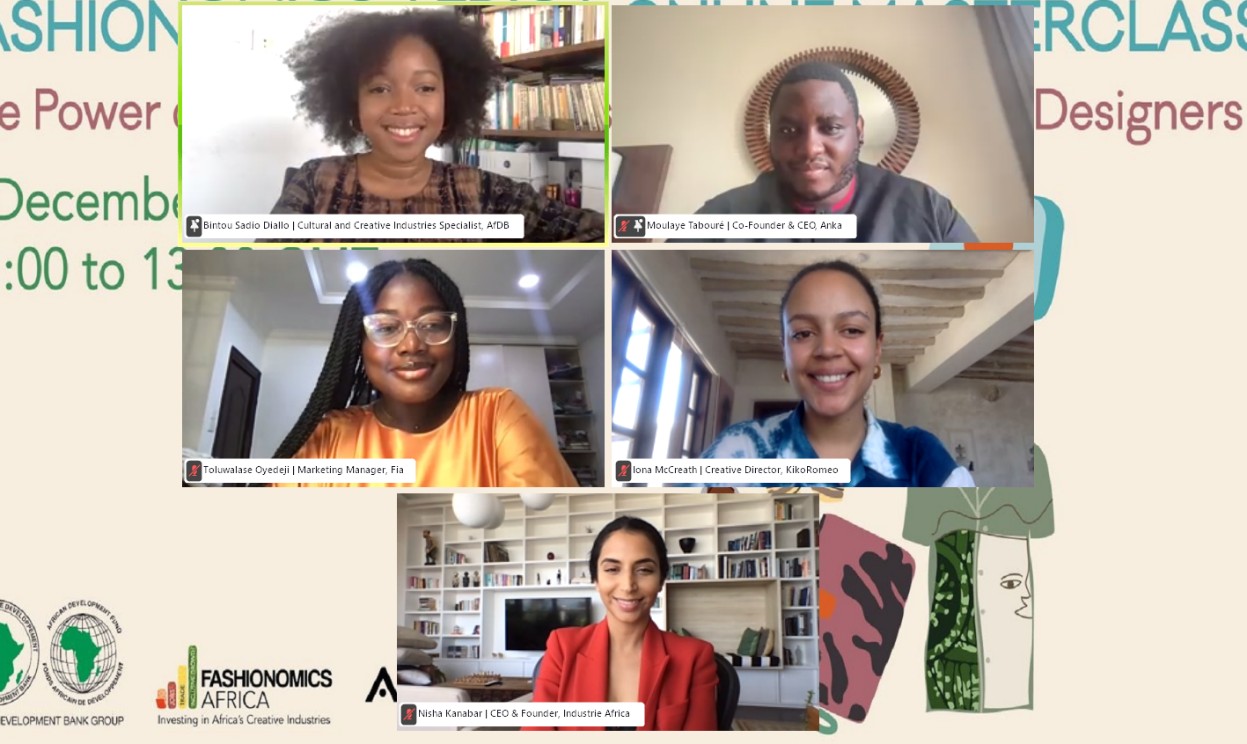 Speakers of the latest Fashionomics Africa Masterclass in collaboration with ANKA

During the latest Fashionomics Africa Masterclass hosted by the Bank – 'The Power of E-commerce Tools for African Fashion Designers' – in which the partnership was announced, ANKA's CEO & Founder Moulaye Tabouré made the following remarks:
"From its inception, the Fashionomics Africa program has always been a pioneering one. And once again, by choosing to partner rather than growing separate, the African Development Bank shows the way forward. We at ANKA, are very proud of the trust placed in our leading solution and look forward to growing the African creative industry together."
About ANKA
Afrikrea was co-founded by Moulaye Tabouré in 2016, as a marketplace with a focus on promoting exports of African-based and inspired fashion, clothing, accessories, arts and crafts. Since then, it has earned a reputation of being Africa's number one e-commerce exporter. On average, Afrikrea transports 10 tons worth of cargo from Africa each month. In the last year alone, the company served more than 7,000 sellers from 47 African countries. As Afrikrea grew, the team noted that sellers were also interacting with social media and websites in order to generate sales. From this realization, they were inspired to channel their experience in e-commerce, and an already existing customer base to come up with the ANKA platform – an omnichannel dashboard for managing sales and inventory. A defining feature of ANKA is its ability to allow sellers to consolidate and manage sales inventory from their multiple channels such as websites, social media and marketplace, under one dashboard. Through the ANKA solution, Afrikrea marketplace now plays the role of one of many sales channels feeding into ANKA.
The ANKA solution allows sellers to sell from everywhere. It can be accessed by the seller for a price of 10 Euros per month. Through ANKA, one can sell on the Afrikrea marketplace, WhatsApp, Instagram, and on the storefront (your own website). With this overarching platform for sales management, sellers are now able to achieve their goals more efficiently, using less time and resources.



A major benefit of using the Afrikrea marketplace is having access to its huge base of customers. The option is especially viable to emerging brands which usually have a more pressing need to access a large number of customers. Sellers can enjoy access to the million visitors who frequent the Afrikrea marketplace each month. In return, they are charged a commission ranging between 5-15%, depending on the seller's volume of sales.
Access to shipping services
Access to shipping services is another benefit that sellers have, courtesy of the 10 Euros subscription. Furthermore, as part of the collaboration between Fashionomics Africa and ANKA, Fashionomics Africa cover a quarterly subscription (27 Euros) for each of the initiative's sellers.
Thanks to ANKA's partnership with DHL and experience in managing product logistics, sellers can transfer the nightmare of transportation to the third party. Subscribed sellers therefore have the option of shipping products from any origin to any destination in the world, at reduced and affordable prices.
Wallet services
ANKA has contextualized its solution by offering payment services in collaboration with local merchants. This overcomes the challenge of receiving payment in locations were international payment methods such as PayPal may not be available. Sellers who are subscribed to ANKA can receive payment for their goods from anywhere in the world, and withdraw their money through local merchants.

Tips to Making the Platform Work for You
Consistency in quality
In order to get the best out of Afrikrea-ANKA, sellers are encouraged to be consistent in terms of their production patterns, quality and communication with customers. Consistency enables the online messaging and marketing to compliment the physical products delivered on the ground, thereby creating a great customer experience.
Generating content
Whilst sellers have the opportunity to partner with Afrikrea-ANKA as an e-commerce solution, the responsibility of engaging with customers should remain a priority in their overall strategy. Brands should regularly generate content aimed at raising product awareness, guiding customers through the purchase process until there is sufficient motivation for them to buy the advertised products. This drives more traffic to their Afrikrea accounts and generates sales.
For more information about this platform and its benefits, you can visit Afrikrea and ANKA's websites.