Making the Metaverse work for Africa's Fashion Industry
07 Dec, 2022
Making the Metaverse work for Africa's Fashion Industry
Metaverse is one of the most trending buzz words in the field of technology. Its potential power to give individuals and businesses new and unique possibilities in the virtual world has stirred enthusiasm and interest across the world. For the fashion industry, which is a highly visual, the metaverse has inspired entrepreneurs in that field to explore how they can harness it to expand markets, enhance consumer experience and foster sustainability. In this article we explore what the metaverse is, and how Africa's fashion industry is interacting with it.

What is the Metaverse?
The term metaverse has been trending since 2021, but defining it has not been easy. Many people are familiar with the term, but do not fully understand its meaning. Metaverse is used to describe a combination of the virtual reality and mixed reality worlds accessed through a browser or headset, which allows people to have real time interactions and experiences across distance. In essence it is when the physical world meets augmented reality and extended reality. Neal Stephenson, a sci-fi author, is credited with coining the term in his 1992 novel "Snow Crash" where he uses it in to explain a 3D digital area. In 2021, Mark Zuckerberg popularized the term after announcing that Facebook was converting its name to Meta. News of the name change was also accompanied by plans to create a metaverse, which Zuckerberg best described as "not just viewing content on the internet but being in it".

Africa's Presence in the Metaverse Conversation
Africa is making strides in the metaverse through the contributions of a number of designers and creative entrepreneurs who are spearheading innovation in the continent's fashion industry. For instance, Anifa Mvuemba in 2020, was the first African to launch a 3D fashion show when COVID-19 was at its peak. Following in these footsteps, Nigerian virtual fashion designer Aisha Oladimeji launched and showcased her six-look digital collection called ECLETIC, at the Digital Fashion Week New York.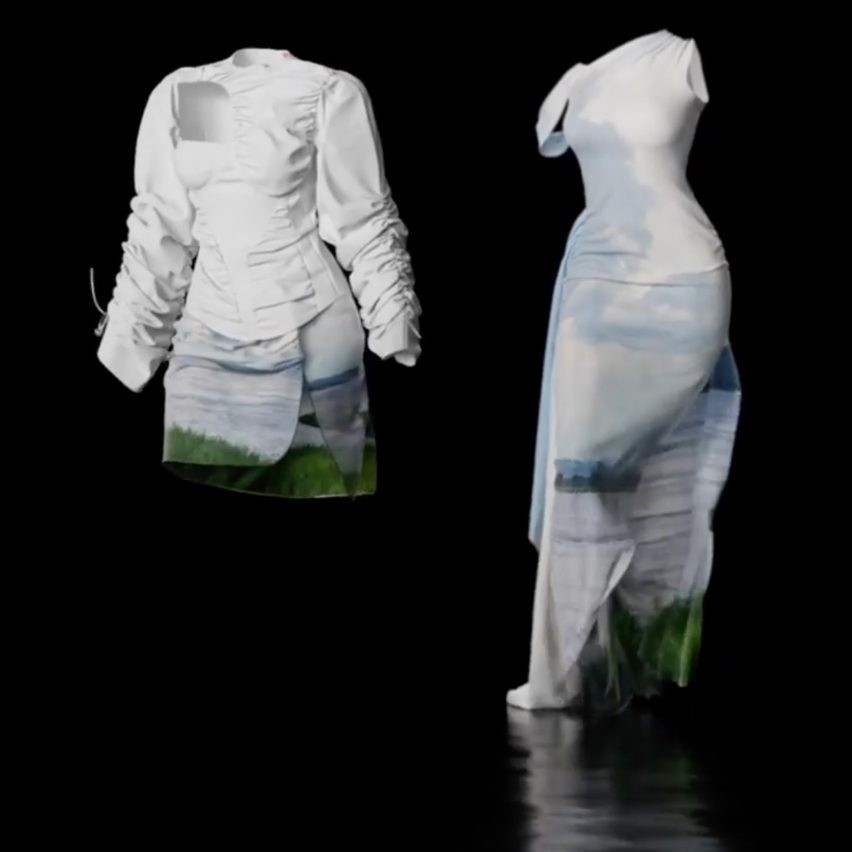 Pieces from Hanifa Mvuemba's 3D Fashion Show
In a more multi-faceted approach, Nigerian creative designer Delz Enrile, created a metaverse space called Astra-an intersection of crypto, gaming, and fashion. It provides one access to attend various social events, play games and use crypto currencies and to purchase clothes from various fashion brands using avatars. By using wearable technologies, one has the opportunity to do virtual in-store shopping through wearable technologies.
MTN South Africa also bought 144 plots of digital space which they have called Ubuntuland. The space will showcase art, fashion, entertainment, sport, tech and creativity. It is meant to provide a platform for artists to sell and display their work. Since inception, the platform has already sold the debut collection by South African artist Norman Catherine through its Mila gallery. Preparations are underway for the display and sale of art work through its upcoming Inuka gallery. Other innovations in this area include the Semblance World by African Fashion Foundation founder, Roberta Annan.

Opportunities for African Fashion Brands
Improved shopping experience
The metaverse gives customers options to shop and view several dimensions of their garments virtually, before production can even begin. Such an innovation presents shopping convenience in ways that would not have been imagined in times before.

A great way to foster sustainability
Because shoppers get to view and experience products before production, it will limit the production of fast fashion. Consequently, it will reduce the negative impact on the climate, by curbing the number of garments which end up in landfills.
Making fashion more inclusive
Where fashion shows were an opportunity afforded to an exclusive few, the metaverse has opened up possibilities for the ordinary citizen with interest in the industry to access it in the comfort of their homes. As a plus, the reduced travel also represents a decline in the carbon footprint.

Effective way of collecting customer feedback
The metaverse presents an effective way of marketing and collecting customer feedback from the interactions with digital products. Such information is critical in reducing operating costs for the brand.

Africa's youthful population
One of Africa's greatest assets is a youthful population with an appetite for style, fashion and keeping up with the latest trends. With the correct mix of strategies, they present a ready market the metaverse's digital products.

Challenges
Internet connectivity
Africa's online penetration stands at 43.1% against a global average of 66%. Such a statistic points to challenges in accessibility of the bandwidth needed to sustain metaverse features.

Cyber security issues
Issues of privacy and security are still to be addressed on metaverse platforms. This can also be a hindrance to investment and uptake of the innovations.

Limited understanding of the metaverse
Though most people are aware of the existence of the metaverse, they do not fully understand how it works, especially in Africa. Perceiving its relevance therefore, still requires improvement.
Making the Metaverse Work for Africa
Improving Access and Quality of the Internet
There is need for investment in technological infrastructure that supports internet connectivity. Investment coupled with the right policies for ICT will be critical for the take-off of the metaverse in Africa's fashion industry. Critical stakeholders such as policy makers and development partners therefore need to have a full appreciation of the benefits that will accrue to their economies and the fashion industry, for them to invest time and resources in the metaverse.

Creating the Metaverse Audience
Uptake of the metaverse Africa's fashion industry needs to be reinforced by sufficient information on what the metaverse is and the benefits that come with it. This will create demand for digital products and motivate a stronger presence of fashion brands on metaverse spaces.