The Sunday Fashion Brunch: Fostering Creative Sustainability in Kenya's Fashion Industry
08 Mar, 2023
The Sunday Fashion Brunch: Fostering Creative Sustainability in Kenya's Fashion Industry
The onset of the COVID-19 pandemic saw a lot of businesses in the fashion industry struggling to stay afloat. However, entrepreneurs in the African fashion industry rose up to the challenge, coming up with creative initiatives whose sustainability proved relevant during and after the pandemic. In Kenya, fashion entrepreneur Connie Aluoch came up with the Sunday Fashion Brunch, an initiative to promote the work of Kenyan fashion designers and help boost their sales which had been negatively affected by the advent of COVID-19.
"In the last two years, fashion entrepreneurs struggled a lot. So my agenda is to push the creative economy of Kenya, and as we go wider, Africa" said Connie Aluoch.
We got in touch with her to learn more about the Sunday Fashion Brunch initiative, and the rest of the work that she is doing to support the Kenyan fashion industry.
Who is Connie Aluoch?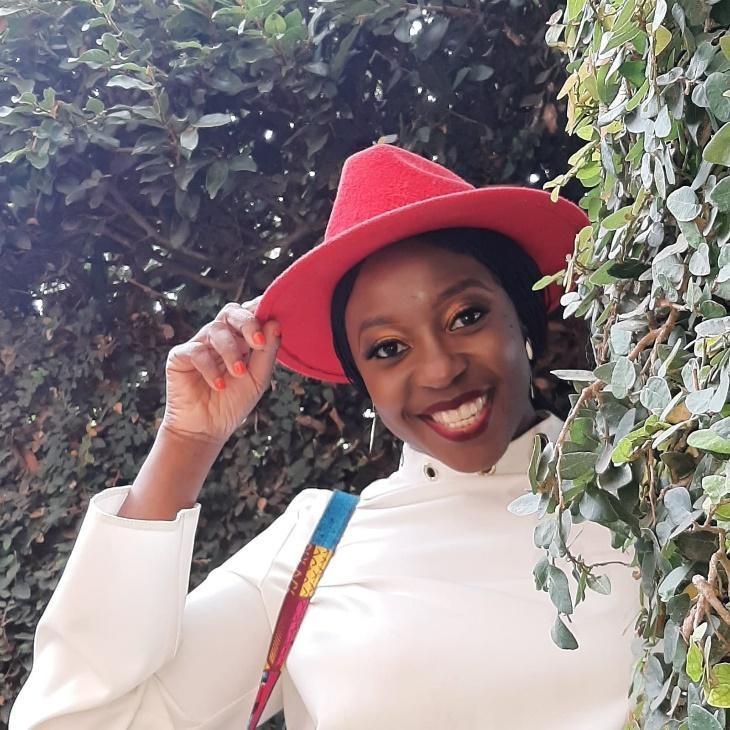 Connie Aluoch is a fashion stylist, image consultant, corporate trainer, entrepreneur, and fashion lecturer with experience working both in Kenya and internationally. She holds a Diploma in Fashion Design and Garment Making from the Evelyn College of Design in Nairobi and a Bachelor's of Fine Arts Degree from the Fashion Institute of Technology (FIT) in New York. She also has a Master's Degree in Fashion Styling from Istituto Marangoni in Milan where she has been appointed as the first African fashion tutor.
Between 2003 and 2009, Connie worked with leading international designers in New York such as Matthew Williamson, Emporio Armani, Alek Wek 1933, and in Milan - Maurizio Peccoraro. Connie has worked at three of the 'Big 4' global fashion houses in New York, Milan, and London Fashion Week. As part of her contribution to developing the next generation of fashion designers in the country, she lectures on Costume and Makeup for Film at the United States International University (USIU).
In Kenya, Connie is actively engaged in the development of the local fashion industry. She was a resident image consultant for seven years at the Kenya Television Network (KTN) for news anchors and reporters, and this saw the station set itself apart from other news channels' styling. Through her company Connie Aluoch Styling Management, she mentors fashion designers, judges fashion events, and trains corporates on the importance of personal branding, image, and grooming. Connie also works as a consultant stylist for True Love East Africa Magazine and is a Fashion Editor for the Sunday Nation Newspaper. Her weekly column features exclusively 'Made in Kenya' fashion brands.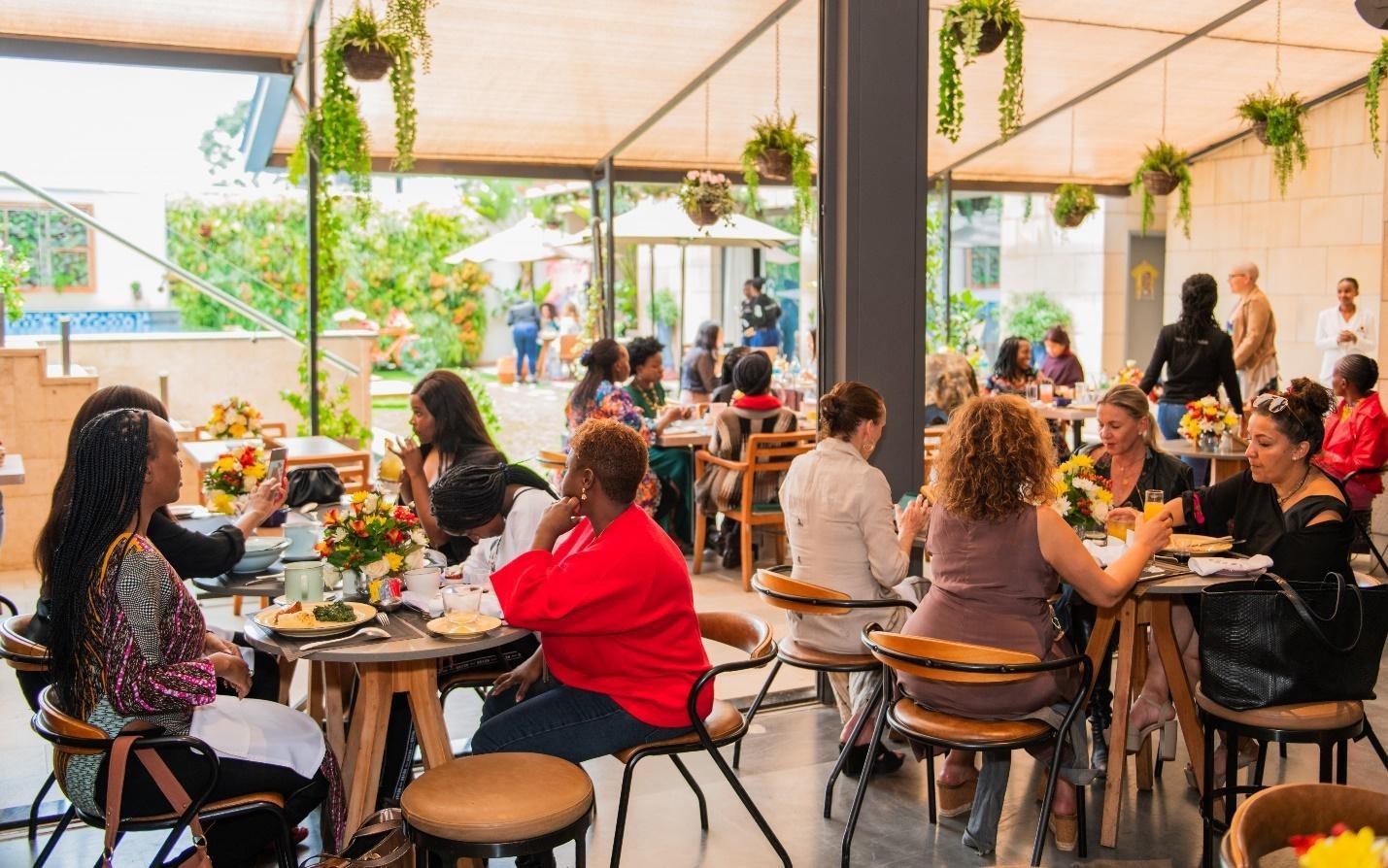 Attendees relaxing during the inaugural Sunday Fashion Brunch
Her most recent brainchild is the Social Sunday Fashion Brunch, which she launched to support the 'Buy Kenya Build Kenya' initiative. The Brunch series is in partnership with The Social House and provides Kenyan designers with a platform to showcase their looks with a runway show, and sell their collections at The Social House Retail Store for 8 weeks. According to the multifaceted entrepreneur, the concept of the Brunch was to foster creative sustainability. One of the ways it does that is by reducing the cost of retail space for fashion designers.
"Here in Kenya, for designers to be based in a mall or a retail space is very expensive, so what this fashion brunch is doing, is helping designers have direct access to consumers."
Being an edgy boutique hotel, in which local clientele and international business travelers and tourists stay, The Social House is a great place to showcase collections and boost sales for Kenyan fashion designers. As a first step, therefore, Connie organized a lookbook shoot for the various designers she had engaged with, to promote the launch of the Social Fashion Brunch series and showcase the designers' various collections. The photos were used to leverage the hotel facilities such as its e-commerce platform and the in-house TV platform that The Social House has. At the click of a button, guests staying at the hotel can browse through the fashion collections and make purchases for their pieces of choice.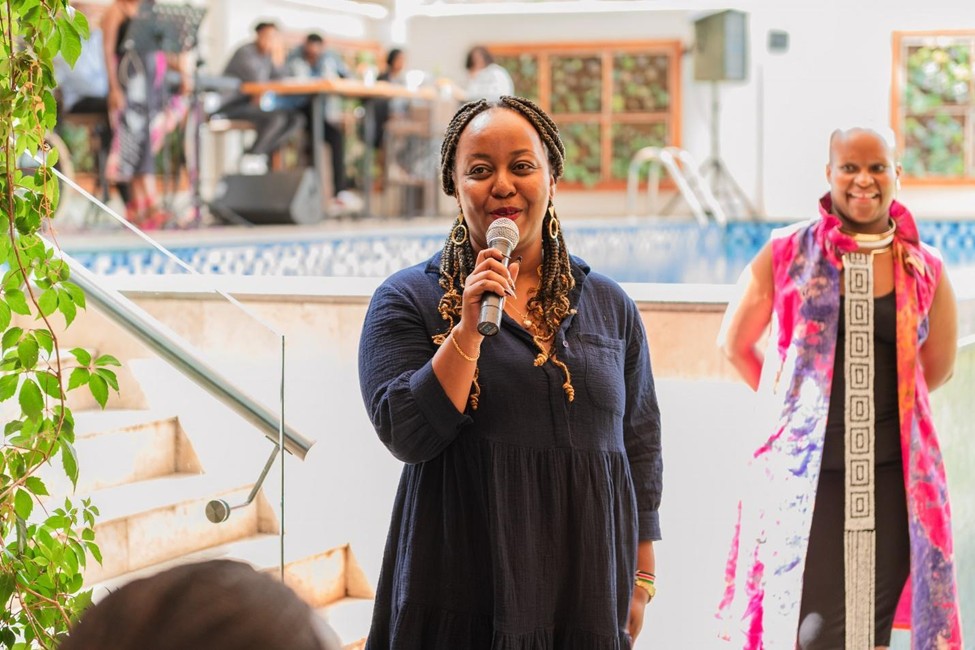 Guest speaking at the inaugural Sunday Fashion Brunch
The partnership with The Social House is a great way for designers to boost their sales and access a high-end market. Furthermore, it reduces the cost of doing business for them as they are not charged any rent. The inaugural Sunday Fashion Brunch was held in April 2022, and since then, three more editions of the event were held. The most recent Sunday Fashion Brunch was held on the 4th of December 2022, and it was a resounding success.
Although the initiative is considerably new, Connie views it as something that will eventually grow bigger and turn into a hub or space that can be used as a Sunday Fashion Brunch retail store, or a space for fashion events, training, or mentorship.
"The fashion brunch is a big deal because we have Kenyan designers but eventually, we would love to have designers from East and West Africa. The possibilities are endless," said Connie.
As she continues exploring ways to further develop this initiative, Connie is eager to pursue partnerships with the government, development partners as well as the private sector. She is so enthusiastic about the initiative to the point of wanting to make it the subject of her Ph.D. research when she enrolls for her doctorate shortly!
Views on the African Fashion Industry
Connie is optimistic about the future of the African fashion industry and considers it to be very bright as there are more opportunities in the industry as African fashion is increasingly being appreciated. Referencing the Kenyan context, she noted that fashion designers stand to benefit from initiatives such as "Buy Kenya and Build Kenya" in which the government is encouraging Kenyan citizens to buy local products. Connie also emphasized the role of social media in influencing trends in the fashion industry.
"African fashion is highly influenced by fashion media. Social media is and will continue playing a great part in African fashion," noted Connie.
Advice to upcoming entrepreneurs
Connie emphasized the need for entrepreneurs to have a clear vision of who they are and who their target market is.
"Focus on who your target is because you can't target everyone," said Connie.
She also encouraged entrepreneurs to be patient and consistent as it takes time to build a business. Giving an example of her brand, she explained how she built her following from 200 to 25.5k followers over five years. Connie credits her success to consistency, a lot of hard work, and the appreciation that a lot of factors and resources are involved in building the business. At the moment, the Sunday Fashion Brunch is Connie's primary focus as it is a strategy for helping fashion designers recover from COVID-19.
Visit her Facebook or Instagram, for the latest updates on the Sunday Fashion Brunch, and other exciting initiatives that Connie is involved in.